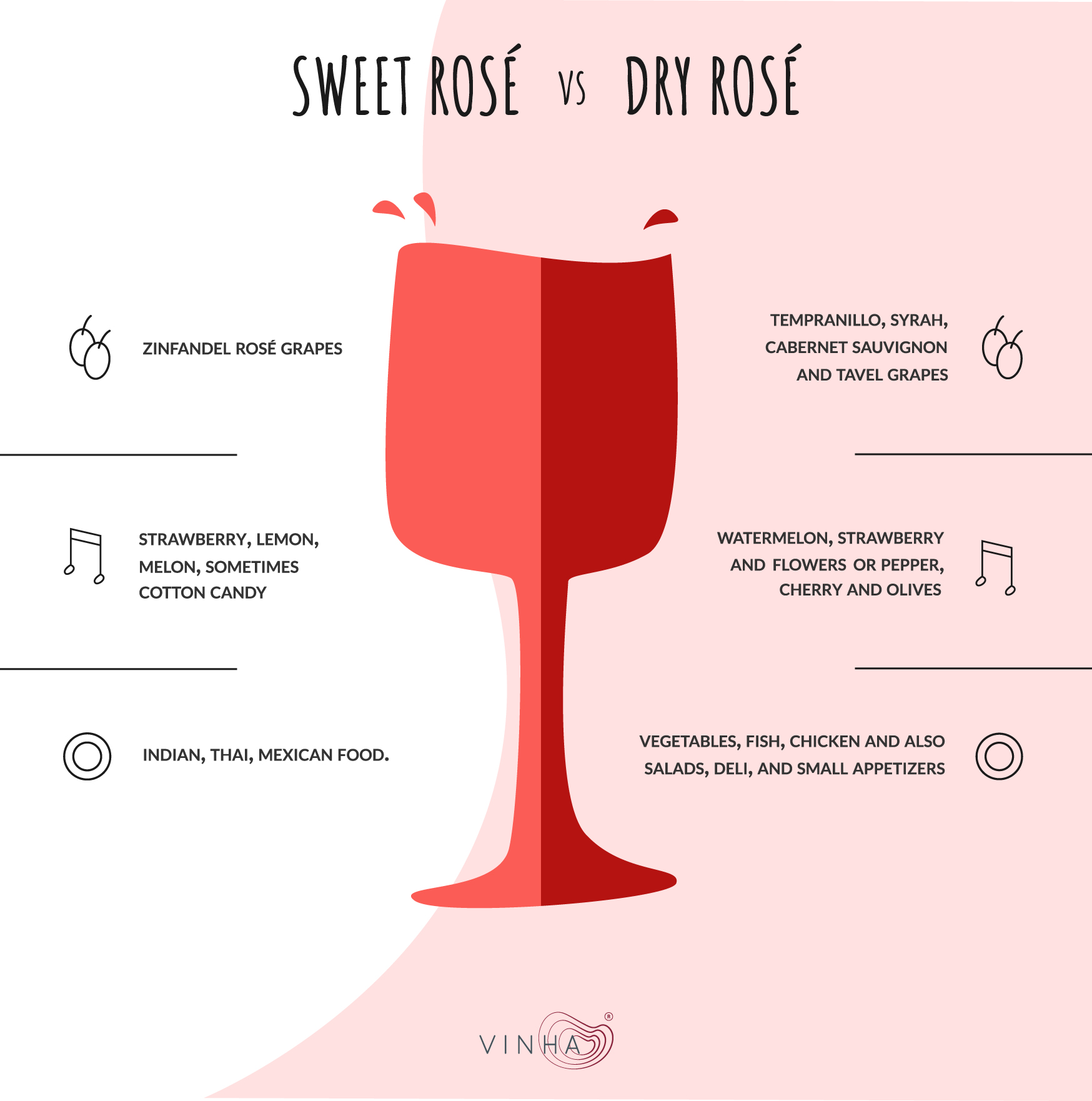 Do you want to try a rosé but don't know how to choose, how to pair it with food or how to serve it? Here are the answers to all your questions about rosé, some trivia and more! Now you can impress all your friends with your knowledge about rosé wine!
Rosé wine has had a huge increase in its consumption. Some time ago it was seen as unfashionable and unsophisticated, however, nowadays it is highly appreciated. For example, in France, rosé wine's sales exceeded those of the best-selling white wine.
This wine, known by its pinkish colour, has a low alcoholic level and a sweeter taste. Although it has a more feminine appearance, it is largely drunk by men too. In fact, this type of wine is considered not only sophisticated but also manly. Besides that, it's very likable and consumed by many people also because of its low tannins' level.
How to produce
This wine doesn't get its color from pink grapes, it's the contact between the grape's juice and its skin, whose colour will blend with the colourless juice. So, to create the perfect shade of pink, wine producers only leave the grapes' skins in contact with the juice for a very short period of time, from two to three days.
Although some people think they can create rosé wine by mixing red and white wine by themselves, the creation of this wine is a more complex process. In this area, it can be compared to red wine, because of the warmer tones and the similar creation process. However, rosé wine can be produced using other processes, such as with a direct use of a press, using the saignée or bleeding method, among others.
It's also important to understand that there isn't a direct relation between rosé's colour and flavour. Sometimes, a rosé with a lighter shade can have more intense flavours and scents than those who are darker.
The biggest Rosé region
The Provence region, in France, produces more rosé wine than any other type of wine. Thus, it is considered to be one of the best producers. Due to its size, there's a wide range of wine varieties and prices. For this reason, when you are buying rosé wine, try to ask for a bottle from Provence since it's better to buy a wine from a region that's dedicated to its production. This way you can assure the best quality-price.
Its styles
There are many types of rosé, according to its flavour, scent and the grape from which they are produced. These kinds of rosé can be divided into dry, fruity and sweet.
The dry style comes mainly from grapes such as Tempranillo, Syrah, Cabernet Sauvignon e Tavel (this particular grape crates a richer and more "masculine type of rosé" because it acquires a many characteristics that can be found in red wines such as, the body, the high alcohol level and the low acidity). The shades of this style of wine can go from a more pale and light pink to a darker one. Associated with these shades are, on one hand, some hints of watermelon, strawberry and flowers and, on the other hand, notes of pepper, cherry and olives.
A fruitier style comes from grapes like Sangiovese, Grenache e Pinot Noir. The wine's shade is normally a ruby or copper red. The flavour has hints of fresh strawberry, orange, peach, but also roses and pepper. However, a Pinot Noir Rosé has a bigger acidity and more subtle watermelon and raspberry scents.
A wine that comes from Provence grapes, mentioned above, also has a fruity style, but is leaner. It can also have a strawberry, watermelon or even rose petals scent. Another wine with a fruity style, but with a floral touch is Mourvèdre Rosé. It has a pink coral shade with red plum, cherry and herbs scents.
The sweet style is many times related with the Zinfandel grapes. This is probably the most popular and consumed type of rosé wine. It offers strawberry, lemon, melon and sometimes cotton candy flavours. It has a high level of acidity and it is recommended to be served ice cold.
Food pairing: sweet vs dry
To pair rosé wine with some dishes, you need to be aware that they can be sweet or dry, as explained above. Thusly, and even though this type of wine is very versatile, the dishes to pair with sweet and dry rosé will be different.
Sweet rosés work with a great variety of dishes. However, they are paired with Indian, Thai and Mexican cuisines more often, since their dishes are typically spicier and "demand" a little sweetness.
Dry rosés are better when combined with lighter dishes, such as vegetables, fish and grilled chicken. You can also pair them with salads, cold meats and savoury appetizers.
However, remember that neither sweet nor dry pair well with desserts, as they are normally sweet and can make this wine more sour and emphasize its alcohol levels.
How to serve
The best way to serve rosé wine is cold, at around 10º C. That's why they are perfect for summer. Thus, it is recommended to store the wine in the fridge after buying it. If, for some reason, you bought the wine in the same day you plan to serve it, you can also put it in the freezer since it will get colder faster. After serving we recommend leaving the bottle at the table so it can "sweat". As the temperature increases, the wine will have slightly modified scents, which are very enjoyable. 
Some tips
It's not mandatory to drink rosé as a wine, which means you can create a cocktail with it. Moreover, it is ideal to mix it because it isn't very expensive when compared with other alcoholic drinks and because it pairs well with all fruity and sparkly drinks. It's just a matter of thinking about which flavours you like and mixing them.