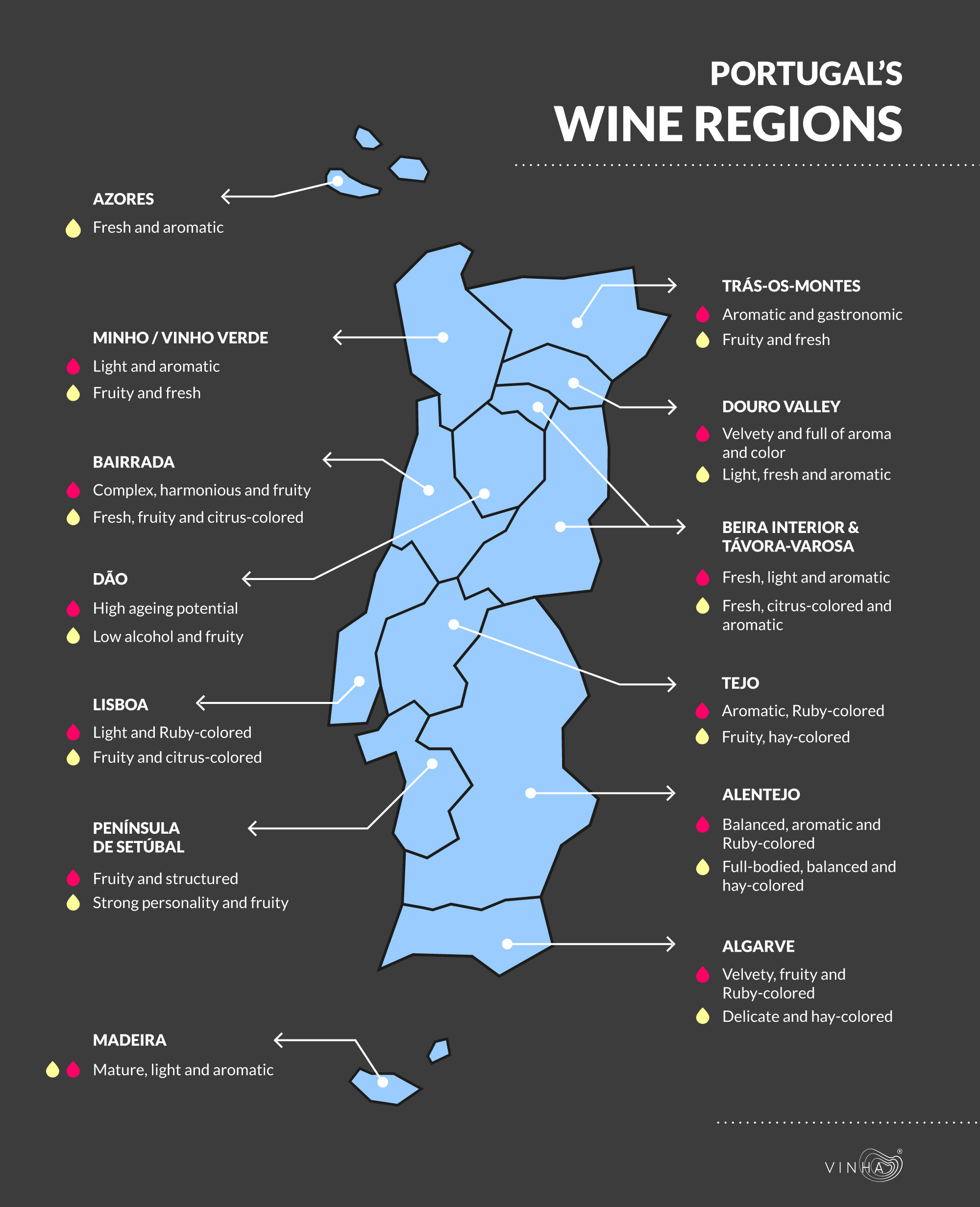 Even though Portugal's a small country, we can be proud to be one of the biggest wine producers in the world. As if that's not enough, we also have an immensely varied amount of autochthonous grape species. 
The secret? The ever living tradition of the grape farming and the great climate and geologic conditions. Come find out a bit more about our main wine regions.
Azores
The Azores archipelago has very uncertain/unstable climate conditions which are unfavorable to the vineyard's plantation.
na ilha da

Terceira, IPR Biscoitos

, produz-se um prestigiado vinho licoroso branco;




The generous white wine from the Pico island is well structured and equally licorous. It possesses a more complex spices aroma.

In the Graciosa island, a fruity and light white wine is produce. It is dry and fresh because the vineyard is planted in "corrals"
Madeira
Madeira's climate is humid and temperate and its soil is fertile, volcanic and basaltic. The Madeira region encompasses the Islands of Madeira and Porto Santo that have south-facing hills with optimal conditions to produce more mature wines, as well as light and moderately alcoholic ones. According to the used castes, there are 5 types of wines from Madeira:
Sercial: Drier, amber-colored with orange glows, almondy bouquet and firm character.

Verdelho: less dry than Sercial, amber or brownish-yellow with an almondy bouquet and a very balanced, dry-ish taste

Boal: sweet, rich in aroma and flavorful

Malvasia: very aromatic, smooth and sweet

Terrantez: it's a more rare kind of wine. It stands somewhere between Verdelho and Boal.
Algarve
A zona Algarvia permite uma proteção montanhosa contra ventos frios do Norte e uma exposição em anfiteatro virado a Sul. Assim, é conseguido um clima seco, quente, pouco ventoso e de reduzida amplitude térmica. Apesar de a maior parte do vinho produzido inserir-se na designação "vinho regional do Algarve", esta região é dividida em quatro Denominações de Origem Protegida (DOP)

Lagos: a velvety, fruit, light-bodied, ruby-colored red wine is produced in this region. The white wine made here is smooth, delicate and citrus-colored.

Portimão: This region is known for its full-bodied, velvety, fruity and ruby-colored red wine as well as its hay-colored, smooth and delicate white.

Lagoa: The red wines are easy to drink, velvety, fruity and full bodied, ruby-colored and longevous

Tavira: Smooth and delicate white wines, and typically Algarvian red wines.
Alentejo
Known for its planes and very heterogeneous soils (clay, granite, limestone or shale) and very high "sun exposure" levels, which allow for the maturation of the grapes and a more desirable accumulation of sugar and coloring matters in the grape's skin. This way it is possible to get two qualities of wine: a warm, balanced, slightly adstringent, and red-fruit aromatized ruby-red wine and a hay colored, full-bodied, balanced and fruity white.
Península de Setúbal
The Setubal Peninsula produces an enormous variety of wine due to a mixed climate with short thermal amplitudes, manipulated by its proximity to the sea, and to compact and fertile soils. Thusly, two types of red wine are produced here:
Single caste: structured and fruity wines with intense aromas.

Caste combinations: more or less structured wines can be produced in Setubal, with redberries, nutty and spice aromas
And three different kinds of white wine:
Predominantly Fernao Pires: usually with a great acidity and fruity to the scent and the taste.

Mostly Moscatel: exuberant caste aroma, with fruit notes and flowers in harmony with its exotic flavor

Fermented and/or staged in oak half-pipes: well-structured and strong personality, exhibiting aromas and scents of exotic fruits, nuts and flowers.
Tejo
Featuring a temperate mediterranean climate, manipulated by the Tejo river and protected by the surrounding ridges, this region gathers unique natural conditions for wine production. Thusly, the reds possess complex aromas, ruby colour and a balanced level of tannins; while the whites are characterized by its citrus color as well as a fine and fruity aroma where tropical fruits and peach stand out, sometimes combined with floral aromas, showing great finesse in flavours.
Lisboa
Lisbon features clay and limestone soils as well as clay and sand soils, a temperate climate with a small thermal amplitude and some humidity. The reds are light and ruby colored and the whites are fruity and citrus colored.
Beira Interior and Tavora-Varosa
These regions are situated in the interior of the country and spread out between the Beira Baixa and Beira Alta which are some of the most mountainous regions of mainland Portugal. These factors, along with their harsh climates, granite and shale soils, influence the type of wine that it's made there.
The white wines from these regions are citrus coloured, aromatically exuberant and a lot of freshness

the reds are a light ruby colour, with complex scents of wild fruits and spices along with striking freshness and lightness.

the sparkling wines are fresh, fruity and elegant. Great for the summer
Dão
This region closely resembles the Vinhos Verdes region, whether for the way the vineyard is set up, predominantly high altitude vines, as for the characteristics of its White Wine (low in alcohol, rich in malic acid and quite fruity) and its Red Wine, with good ageing potential.
Bairrada
This region is particularly flat and near the ocean, and so has a high atlantic influence, with heavy rains and mild temperatures. Combined, these factors lead to light and elegant wines:
the red wines have ruby colours, harmonious taste and fruity aromas, which evolve to more complex ones with ageing.

the white wines have citric colours, harmonious, fresh and persistent taste, and a fruity aroma when youngs, which evolves for a resinous note with ageing.
Douro-Porto
This region is highly influenced by the microclimates created from the irregularities of the reliefs around it. As a consequence, Vinho do Porto is produced here and it is famous because of its richness and sweetness, its high alcohol content and unique aromas. Furthermore, this region also produces Douro Red and White wines. the former is a fine wine, light, fresh and aromatic, while the latter is silky, rich in colour and aroma, and has a good ageing.
Trás-os-Montes
The soils of this region are mostly shale, with some granitics and calcareous spots. Only this way it is possible to have both red and white wines strong in colour, fruity, acidulated and slightly alcoholic.
Minho/Vinhos Verdes
This unique region and its natives castes, creates an extraordinary original wine: Vinho Verde (similar as "green" wine) – light, elegant, acidulated, with a strong aromatic and palate impression, as well as fruity and floral notes. The red wines have a bold colour and a vinous aroma, while the white ones are more fruity and young, linked to an unique freshness.