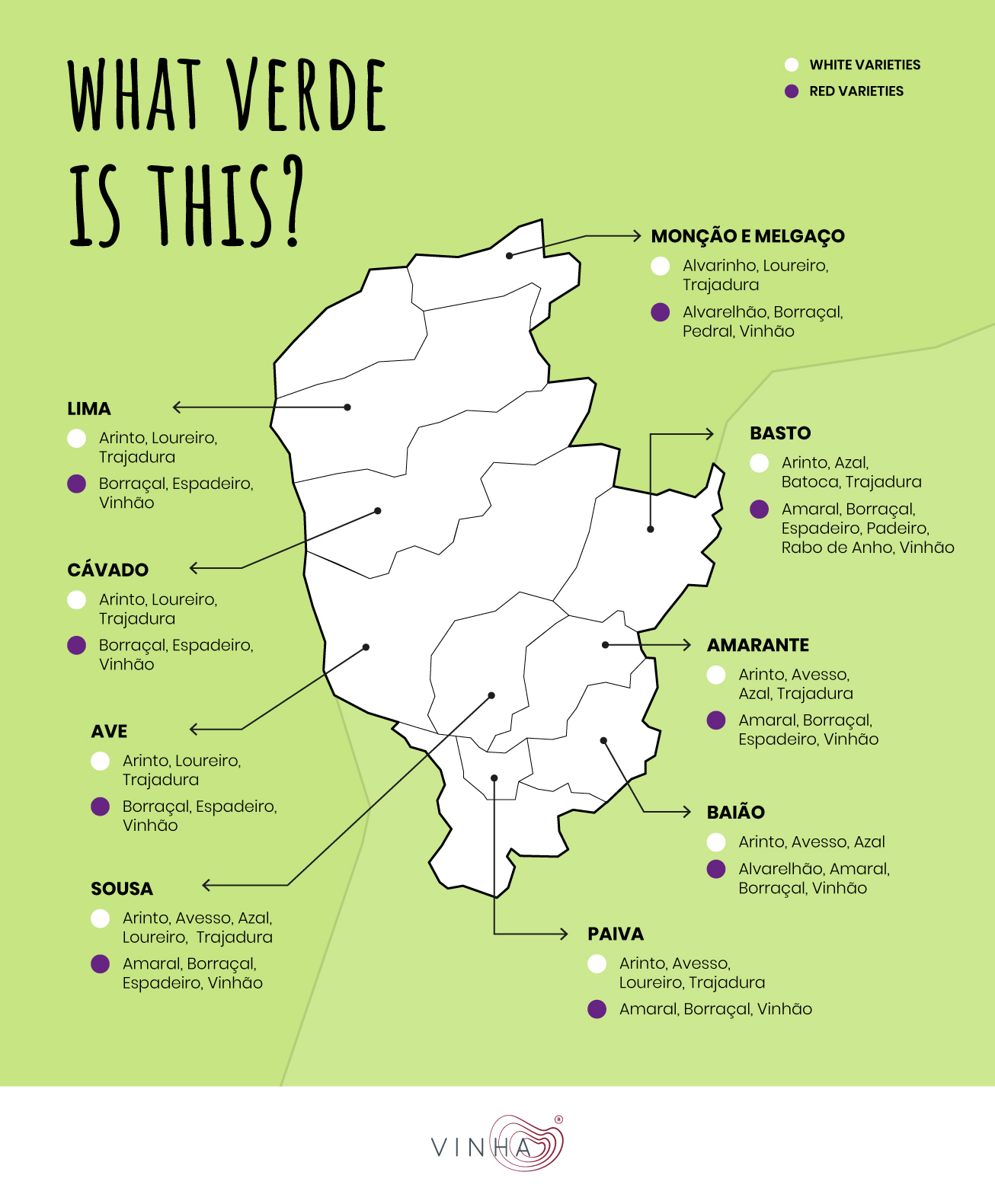 A good wine
connoisseur
knows a good Vinho Verde Wine when he tastes it. Here are some of the features that make the Northwest region of Portugal so famous in the Wine world.
Wines from the Vinho Verde region are distinguished by their freshness, elegant lightness and fruity aroma, given that they are produced exclusively in the Demarcated Region of Vinho Verde. The castes that allow their production are native to the region, standing out worldwide and accentuating the specificity of Vinho Verde.
White Castes
Alvarinho
Typical caste of the sub-region of Monção and Melgaço, it typically provides refreshing and soft White Wines, with a light body and a high degree of acidity. Its straw-yellow color and fruity aroma with hints of honey highlight this Wine's tasting.
Arinto
The Arinto Wines offer a harmonious taste of fruit and hazelnuts that linger in the mouth. These attributes come from the characteristics of the interior zones of the Vinho Verde region that allow the wine to elevate its quality. Moreover, it is still qualified as a full-bodied, dry White Wine with a high degree of acidity.
Avesso
A caste of the Baião sub-region, Avesso is known for designing straw-colored White Wines with a mix of fruity (orange and peach), almond (variety of nuts) and floral aromas. Fresh and harmonious in flavor, these wines provide a full-bodied and low-acid taste, a consequence of the months of aging after its production.
Azal
Originally from the sub-regions of Amarante, Basto, Baião and Sousa, the Azal variety reaches its highest quality level by growing on sunny, dry land. Characterized as a harmonious fruity Wine, the Azal variety White Wines distinguish themselves by aromas of lemon and green apple, as well as a young, full-bodied freshness.
Loureiro
Cultivated mainly in the north-coastal zone of the Demarcated Region of the Vinhos Verdes, Loureiro is recognized for producing a dry White Wine, not very full-bodied and with a high degree of acidity. It is also characterized for creating Wines of citrine color with a fine and elegant aroma, bringing a fruity and fresh flavor.
Trajadura
Produced equally throughout the region, except in the Baião sub-region, Wines of caste Trajadura have an intense golden straw color, as well as a strong aroma of fruits such as apple, pear and peach. Its low level of acidity allows the Wine to get a softer flavor.
Red Castes
Padeiro
Located in the sub-region of Basto, Padeiro is a caste of little expansion in the region of Vinho Verde. The result is a tasty and harmonious, ruby-colored wine.
Vinhão
Cultivated throughout the Vinho Verde Region, this caste stands out for its vinous aroma and intense flavor of wild fruits. It is classified as a full-bodied and slightly astringent wine.