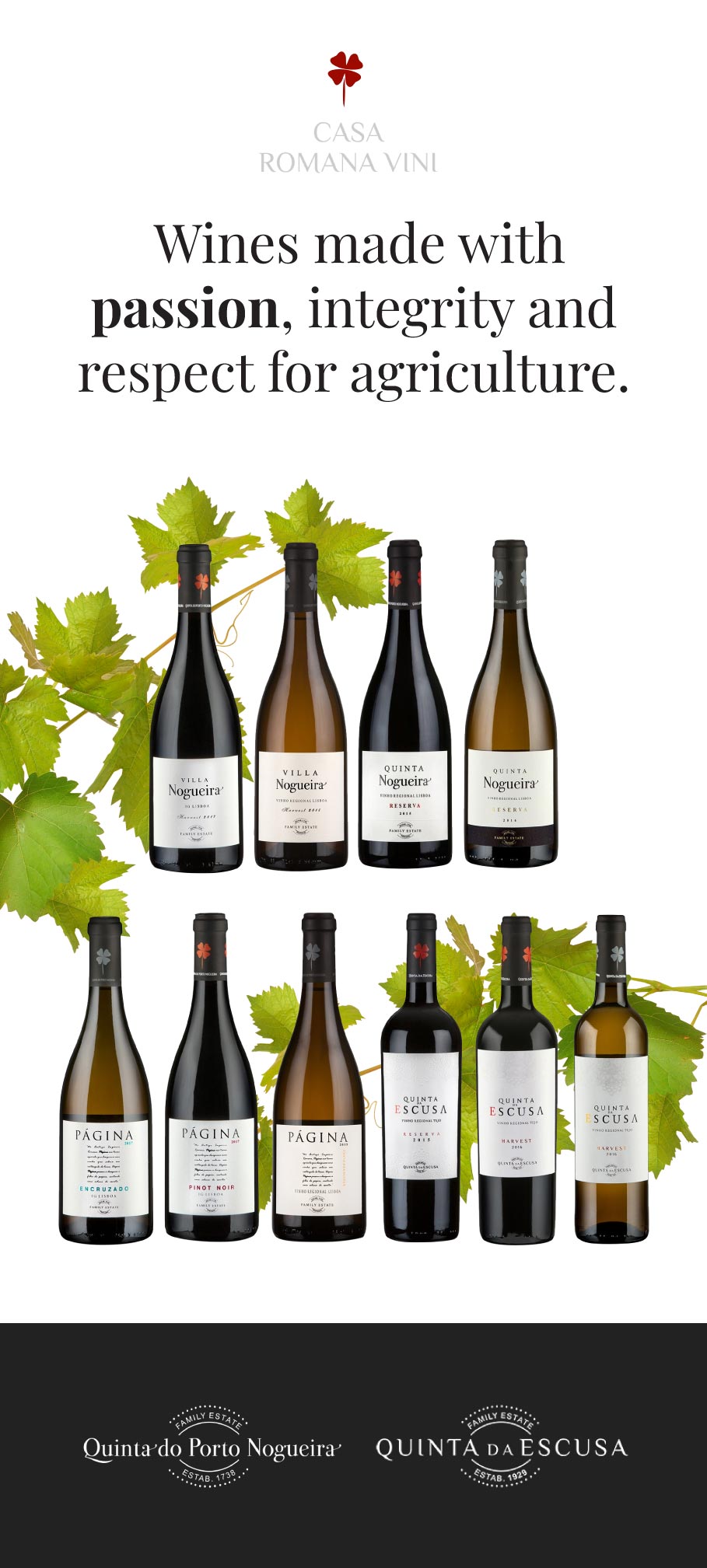 Hey cheers,
this family makes wines with passion, integrity and respect for agriculture. The whole process aims the creation of serious wines with their own identity. They are the expression of this: the earth and the people.
It's only through the diversity of reliefs and microclimates concentrated in the regions of Lisbon and Tejo that it is possible to create the great variety of these wines.
The symbol of the winery is a clover, a rare herb of good omen, symbolizing the perfect balance of nature that manifests itself through the 4 seasons, 4 phases of the moon and 4 elements of nature (water, earth, fire , air). It is this balance and harmony, which is reflected on the blend of each wines.
We worship quality and not quantity!
The wines are made with rigor in order to create unique ointments respecting and reflecting exactly the true expression of our Terroir. Everything is made separately, by grape variety. Only the "most elegant" grapes are harvested for future nectars.
They are produced exclusively with own grapes in Quinta do Porto Nogueira (Lisbon
Region, with 17 hectares of vineyard) and Quinta da Escusa (Region of the Tejo with 10 hectares of vineyard).
The natural freshness and salinity are excellent for the production of grape varieties, Arinto, Encruzado and Sauvignon Blanc. The wines turn out to be Clean, bright, greenish-yellow color and straw, with aromas of citrus fruits, tree fruits, tropical fruits, floral and vegetable notes. The toast is present, light, vanilla but very well balanced. Due to its proximity to the ocean, we also feel algae, saline, minerality and freshness.
The red wines appear clean, bright ruby in color, with aromas of ripe and intense red fruits (cherry, plum, wild berries and strawberry). In the mouth they are balsamic, with spices, dark chocolate, notes of well balanced oak and a long finish.
These wines fulfill the purpose very well, they reflect the fullness of their terroir – serious, constant, persistent, fresh, balanced and very pleasant.
Get to know the whites here 
· Quinta da Escusa Harvest – Arinto e Moscatel
· Villa Nogueira Harvest – Arinto, Sauvignon Blanc e Encruzado
· Página – Sauvignon Blanc
· Página – Encruzado
· Quinta Nogueira Reserva – Arinto, Sauvignon Blanc e Encruzado
· Página – Pinot Noir
· Villa Nogueira Harvest – Touriga Nacional, Pinot Noir, Syrah
· Quinta da Escusa Harvest – Alicante Bouschet, Castelão, Syrah
· Quinta da Escusa Reserva – Touriga Nacional, Pinot Noir
To get to know the wines better, watch the wine tasting videos.
Let's taste them? Cheers!

---