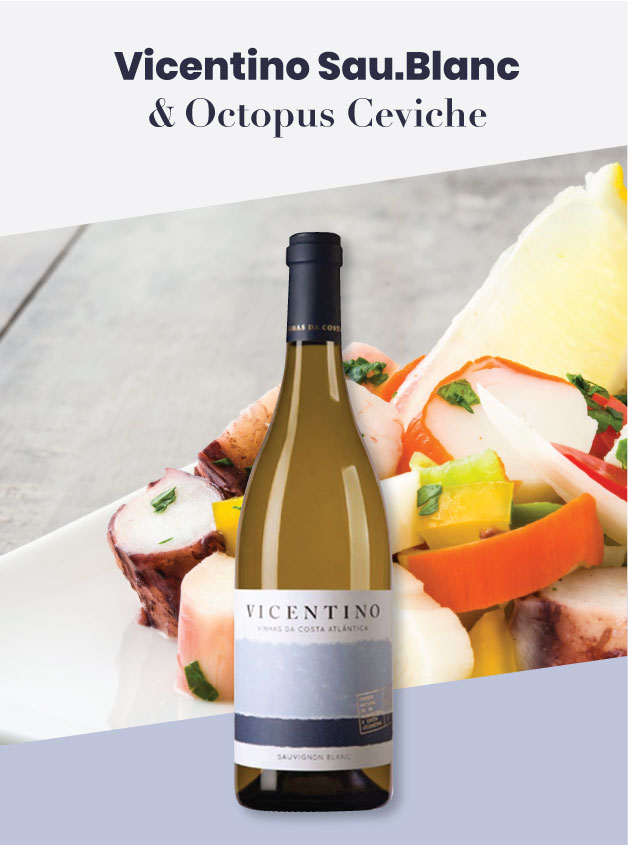 For a wonderful gastronomic moment try the following recipe with octopus and avocado. It's a fresh, light and flavored dish. In addition, it is easy and quick to prepare.
We suspect, however, that after preparing it once you will want to repeat many others. To accompany you, our wine specialist João Guedes recommends the white wine Vicentino Sauvignon Blanc, an Alentejo wine with mild aromas.
Ingredients: 2 people
1 Cooked octopus, previously cut into small pieces
2 Limes
2 Lemons
1 Chopped red onion
2 Garlic cloves
200 g of Tomatoes cut into cubes
1 Cucumber cut into cubes
Coriander
Mint
Basil leaves
Olive oil, salt, and pepper
1 Avocado
1 Sliced Sourdough bread
Preparation:
Squeeze the lime and lemon juice over the octopus.
Add the onion, tomatoes, and cucumber
Season as you like with coriander, mint, basil leaves, olive oil, salt, and pepper.
Refrigerate for 2 hours.
Mince the garlic and two basil leaves. Put everything into a recipient with olive oil and stir well to mix.
Brush the bread with the mixture and toast it.
Open the avocado and crush the pulp with a fork. Season with salt and olive oil.
Serve the octopus with bread slices spread with avocado.