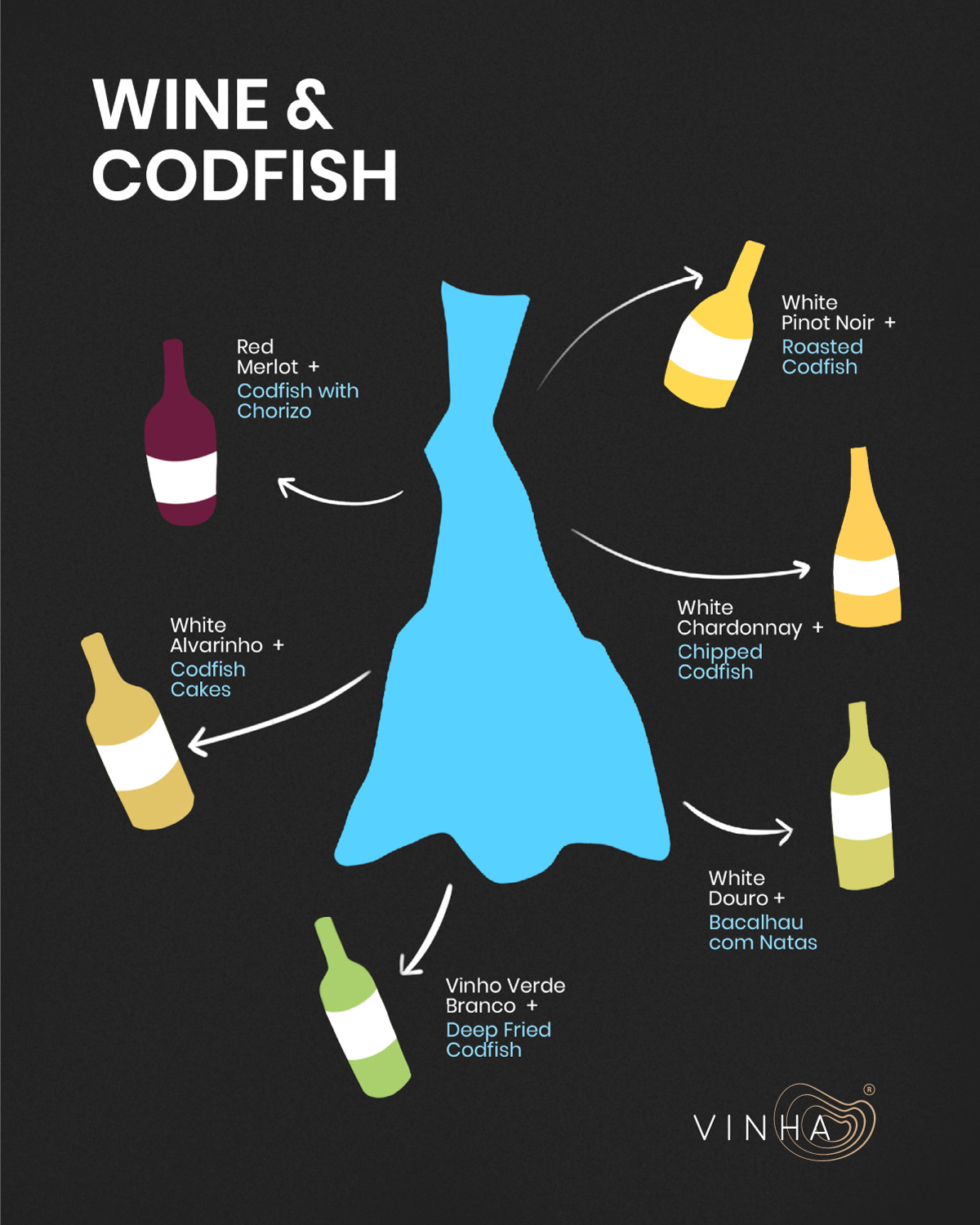 Despite being a fish, Cod does not necessarily have to be matched with White Wine. It is our recommendation…but there are other options
Generally, combining Cod with a light White Wine will never let you down! However, if you prefer new tasting experiences, where delicate flavors complement each other, you can choose a full bodied White Wine or even some light Red Wines. You won't regret choosing a White Alvarinho or a Red Trincadeira, because its acidity balances the characteristics of the salted Cod.
Be aware that some salted dishes may alter the rest of your meal's flavor – Wine may seem sweeter in the presence of salt. In this case, dry wines with a medium-high acidity level are the ideal match.
Salted Cod can be cooked in thousand ways, which means, a thousand of ways to pair wine! As it has a strong flavor, Cod needs a wine that complements it, without overwhelming it!
Here we show you some ideal castes to complement your favorite Cod recipes:
Cod cakes

match perfectly with cool Alvarinho.

If you

deep fry codfish

, match it with a cold bottle of Vinho Verde.

The portuguese famous

Bacalhau com Natas

goes well with Vinho Verde, but if you want to raise the stakes, try to combine it with a White Rioja or a White Douro.

If your

Cod meal also includes ingredients like tomatoes, peppers or chorizo

, you can match it with a full bodied Red Wine – such as Cabernet or Merlot.

 To take with a dish of

chipped Cod

, Chardonnay is the most appropriate.

 Roasted Cod

goes beautifully with Pinot Noir for dinner.
Now you have some wine ideas for your next dinner with friends, or even for the Christmas dinner!
Cheers and Merry Christmas!